One of the many benefits of owning a motorhome involves taking the indoors outside. An RV is the perfect place to set up an outdoor kitchen and spend a night eating campground meals, singing, and having fun with friends. RV entertaining can be a learning curve, but it is so worthwhile!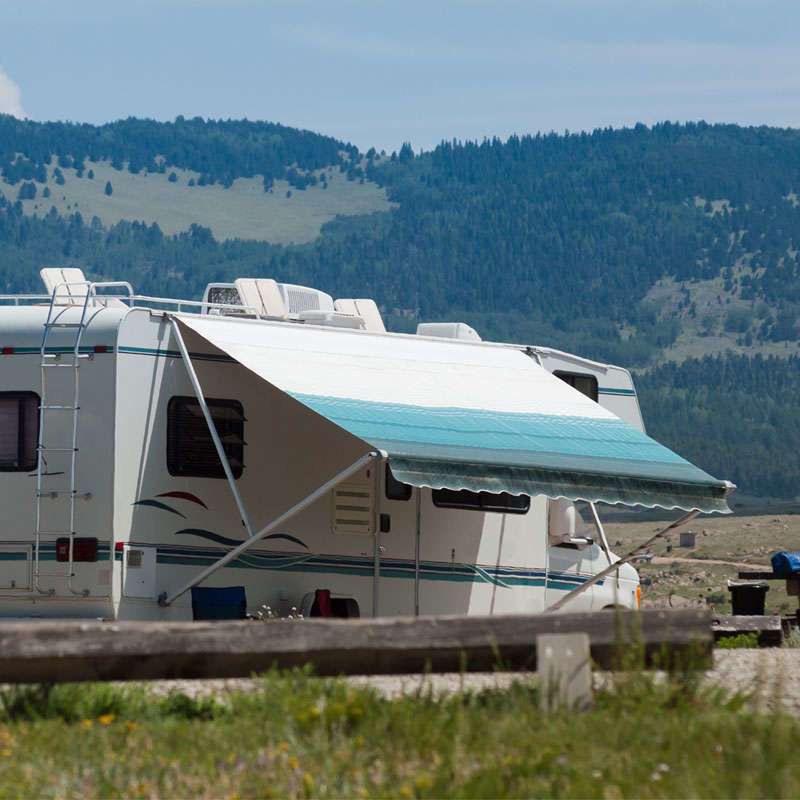 Outdoor Cooking and Entertaining
Consider the following tips for RV entertaining and cooking outside for company.
By "planning ahead," we simply mean that you should do everything you can before the party arrives. RVs are great for entertaining, but space is limited. If you have already prepared dishes, set chairs up, and have the area ready to go, that saves "set up space." Then, your guests can show up and enjoy themselves without worrying that they are in the way of the cooking.
Of course, not everything can be done ahead of time. For instance, if you are cooking hot dogs and s'mores over a fire, wait until everyone arrives. Just try to have everything ready to go.
2. Make the outdoors count.
Comparatively speaking, the inside of your motorhome is a small area. Therefore, the majority of your guests will spend the majority of their time outside. You have plenty of space out there, so try to make it as cozy as possible. Bring out extra chairs, string up some lights, and play some music.  An RV awning is a great source of shade if your party is during the day, as well as a great source of privacy at all times. Awnings come in many styles and colors and are perfect for your RV patio.
Everyone enjoys a laid back get-together; however, there is a difference between laid back and boring. Nothing will kill the mood like a stagnant party. Order events so that the night has some momentum. Have food, games, etc. and try to keep guests moving back and forth. This is especially important if the seating is limited. Half the guests might end up sitting the whole night, while the other half ends up standing.
4. Be practical with the menu.
While RVs come with many perks and benefits, realistically, you will probably not be cooking 5-course seafood dishes that require multiple dishes and special cutlery. Instead, plan simple meals that are tasty, but require minimal effort. Finger foods are particularly good for outdoor parties. That way people can stand and interact as they eat. Meals that require forks, knives, and spoons are inconvenient and make it difficult to be flexible. Also, there is nothing wrong with disposable plates. Paper plates and plastic cups make cleanup a whole lot easier.
Although the majority of your event will probably be held outside, your motorhome is the base for your supplies, food, seating, etc. Make sure that you are taking care of it and setting it up to be as useful as possible.