Nothing beats traveling around the country in a motorhome. Yet, during the dog days of summer, it becomes hard to stay cool inside and outside of your RV.  Fortunately for all you vacation campers, there are travel trailer and motorhome accessories on the market that can help you beat the heat.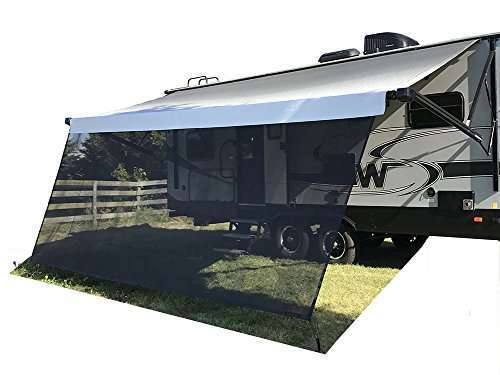 Tips for Staying Cool in Your Motorhome
If you want to stay cooler in your RV this summer, try some these suggestions.
The very first step you can take towards keeping your RV cool is to pay attention to how you park. The afternoon sun is the hottest, so try to park in such a way that the side with the fewest windows takes the brunt of the heat. Every motorhome is different, but this is usually the side with the entrance. Remember, the sun rises in the east and sets in the west. If your window side faces east, your RV will be a lot cooler during the day. Additionally, curtains over windows and skylights will help block the afternoon sun.
Cooking inside your RV can be convenient when the weather is bad. However, when possible, try to do your cooking outside. The space inside a motorhome can be tight and limited and provides little or no outlet for hot air and smoke. Fortunately, cooking outside can be a lot of fun!
If you would rather not cook outside, try to plan ahead. Choose a menu that doesn't require heat for every dish. Cold foods such as sandwiches, fruit, vegetables, finger foods, etc. require a lot less effort and heat, which will make the RV more comfortable for everyone.
There is a reason most traditional homes have ceiling fans in every room. Moving air is a lot less sticky than still air. To keep your RV cool, simply keep it ventilated. Open doors and windows, set up portable fans, or fan the air yourself. Try to air the RV out once or twice a day; this will keep the air inside from getting stale, sticky, and uncomfortable.
Another great way to cool the patio air is to invest in an awning misting system. A misting system works like "outdoor air conditioning" in that it uses evaporated water to lightly mist and cool the outside of your RV. It is especially handy for outdoor meals and for entertaining.
4. Plan your schedule accordingly.
If possible, try to plan your day around the heat. Mid-afternoon is probably the hottest time to be inside a motorhome, so, if you have errands to run, plan to run them then. Or, just plan on resting outside where the breeze is blowing. Downtime or periods of rest can be scheduled for the evening when the sun is setting or perhaps early afternoon.
Of course, it is impossible to base your entire schedule around the weather, but it never hurts to do your best.
Nature has provided us with a natural way of cooling down. Shade should be utilized as much as possible. As already mentioned, it is helpful to block the sun with window curtains and to park as much in the shade as possible. Additionally, RV awnings and sun shades make excellent and useful motorhome accessories.
An RV awning provides shade and style to your motorhome. They come in a number of colors and are very useful in protecting your RV from sun and debris. They come in a variety of sizes with 14 foot awnings and 20 foot awnings being some of the most popular.
Sun shades are sheer drapes that can be added to your awnings for additional protection from the bright sun. They are also a great way of adding privacy to your little space if you are entertaining or spending some time outside.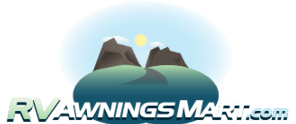 RV Awnings Mart supplies awning replacement fabric that costs less than OEM fabric. You can also purchase motorhome accessories such as misting systems and sun shades for your RV.