MONACO COACH AWNING FABRIC

30 years experience

Flexible delivery

Easy installation

After sales support

5 Year Warranty
Monaco Coach Corporation was founded in 1968 under the name Caribou Manufacturing Company.  Its name was changed in 1977 to honor its most popular line "Monaco".  Today it is owned by REV Group Inc which has been manufacturing motorcoaches for half a century.
Offering the best top-quality products, Monaco Coach manufactures only luxurious Class A diesel pushers.  Examples of the lavish amenities offered with their RVs are in-motion satellite systems, full-tile showers, and embroidered seats.  It is also possible for customers to customize and upgrade their motorhome on the company's website.
Since there are so many wonderful features offered by Monaco Coach you will definitely want to complement your luxurious motorhome with a smart looking awning.  To get the perfect awning fabric for your RV is a simple matter of measuring between the centerline of one awning arm and the centerline of the other awning arm. The fabric will be approximately 10" shorter than the measurement of the awning arms.  Once you have this measurement, select the awning fabric of your choice from RV Awnings Mart.
The wide selection of sizes and styles of awning fabric at RV Awnings Mart will complement any make and model found at Monaco Coach.
Awning Replacement Fabrics

High-Quality Durable Material
Made from thick vinyl, RV Awnings Mart replacement fabrics can withstand the elements for years. We back our awning replacement fabrics with a 5-year warranty. You can't find a better awning replacement.

The Best Awning Fabric Prices Around
Why pay the high prices associated with name-brand manufacturers? Our RV awning fabric fits top brands of awnings, is more durable, and costs less.

Crafted Carefully
We stay dedicated to serving our clients and offering the best RV Awning replacement fabric and products at the best possible price.
RV Awnings Mart Accessories
Enjoy privacy and comfort with RV Awnings Mart Accessories. Order an Awning Sun Shade or Misting System and keep cool during those summer nights.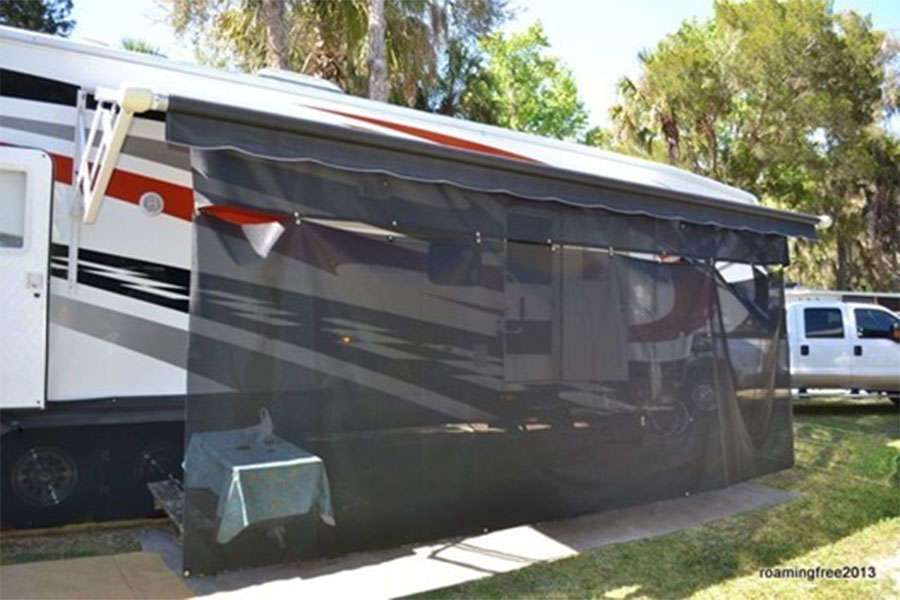 Located in the RV capital of the world, Elkhart, Indiana, RVawningsMart.com offers quality RV awning fabric, durable hardware replacement parts, RV Awning misting systems, and RV awning LED lights at savings of 40% compare to our online competitors.
Replace your old, worn-out Monaco Coach awning and customize the look of your Monaco Coach trailer with Sun-Wave™ brand patio awning fabric. Sun-Wave™ awning replacement fabric is made of DURABLE 15 oz. VINYL with heavy duty 1000 denier 16 oz. weatherguard. We are committed to offering the LOWEST possible prices on our products with a 5-YEAR limited warranty on the awnings and LIFE-TIME warranty on hardware.