30 years experience

Flexible delivery

Easy installation

After sales support

5 Year Warranty
Jayco Inc. has been around for over fifty years.  They began in 1968 and are still going strong with their great selection of travel trailers.  Some of their popular options include ultra-lightweight lines called Jay Feather and Hummingbird.  With no need for a large tow vehicle, these lightweight lines have opened up RVing to a broader audience. 
Not only does Jayco provide affordable and reliable RVs, they also like to focus on things that are important to everybody – family and the environment.  This company sets itself apart from its competitors by utilizing technology that helps to reduce their carbon footprint and create a comfortable environment for families traveling together.
Awnings for Jayco RVs come in a variety of sizes.  If the awning ever needs to be replaced, it is a simple procedure to determine the size of awning fabric to order.  First, measure between the centerline of one awning arm and the centerline of the other awning arm to determine the fabric size you will need.  Next, select a fabric style from the many options available at RV Awnings Mart.  The fabric will be approximately 10" shorter than the measurement of awning arms.
Find the best fit for your Jayco RV at RV Awnings Mart.  Their variety and affordability will complement any make and model.
Awning Replacement Fabrics

High-Quality Durable Material
Made from thick vinyl, RV Awnings Mart replacement fabrics can withstand the elements for years. We back our awning replacement fabrics with a 5-year warranty. You can't find a better awning replacement.

The Best Awning Fabric Prices Around
Why pay the high prices associated with name-brand manufacturers? Our RV awning fabric fits top brands of awnings, is more durable, and costs less.

Crafted Carefully
We stay dedicated to serving our clients and offering the best RV Awning replacement fabric and products at the best possible price.
RV Awnings Mart Accessories
Enjoy privacy and comfort with RV Awnings Mart Accessories. Order an Awning Sun Shade or Misting System and keep cool during those summer nights.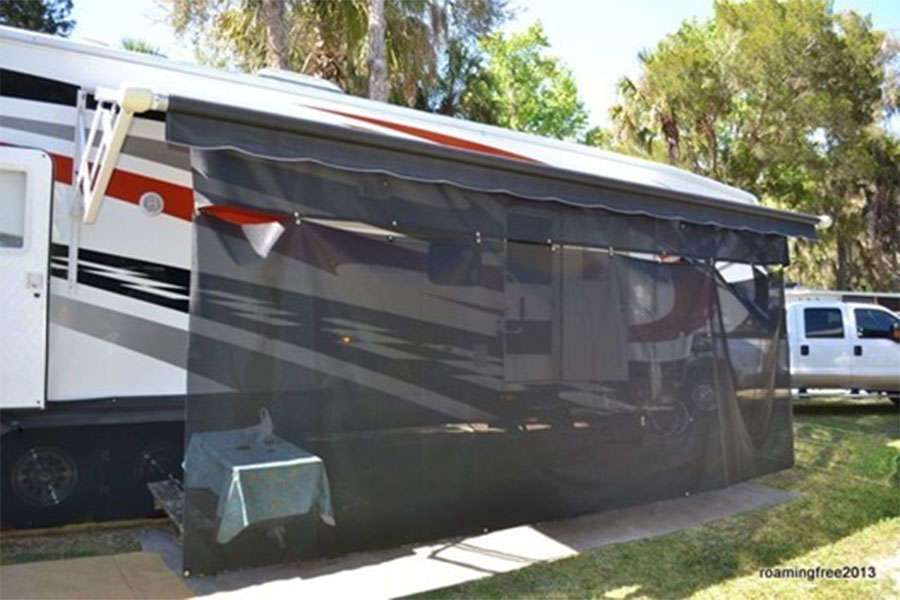 Located in the RV capital of the world, Elkhart, Indiana, RVawningsMart.com offers quality RV awning fabric, durable hardware replacement parts, RV Awning misting systems, and RV awning LED lights at savings of 40% compare to our online competitors.
Replace your old, worn-out Airstream awning and customize the look of your Airstream trailer with Sun-Wave™ brand patio awning fabric. Sun-Wave™ awning replacement fabric is made of DURABLE 15 oz. VINYL with heavy duty 1000 denier 16 oz. weatherguard.We are committed to offering the LOWEST possible prices on our products with a 5-YEAR limited warranty on the awnings and LIFE-TIME warranty on hardware.