30 years experience

Flexible delivery

Easy installation

After sales support

5 Year Warranty
Fleetwood has been manufacturing high-quality RVs since 1950. Their smart and stylish looks combined with affordable pricing has worked to make them a favorite in the world of camping.
To meet the needs of customers, Fleetwood offers a large selection of Class A and C vehicles.  Plus, they give customers the ability to customize their RV with a build-your-own program on their website.  No matter what size, style, or pricing range is needed, Fleetwood will meet that need with a quality product.
Customizing an awning for a Fleetwood RV is also a simple two-step process. First, measure between the centerline of one awning arm and the centerline of the other awning arm to determine the fabric size you will need.  Next, select a fabric style from the many options available at RV Awnings Mart.  The fabric will be approximately 10" shorter than the measurement of the awning arms.
The wide selection of sizes and styles of awning fabric at RV Awnings Mart will complement any make and model of Fleetwood RV.
Awning Replacement Fabrics

High-Quality Durable Material
Made from thick vinyl, RV Awnings Mart replacement fabrics can withstand the elements for years. We back our awning replacement fabrics with a 5-year warranty. You can't find a better awning replacement.

The Best Awning Fabric Prices Around
Why pay the high prices associated with name-brand manufacturers? Our RV awning fabric fits top brands of awnings, is more durable, and costs less.

Crafted Carefully
We stay dedicated to serving our clients and offering the best RV Awning replacement fabric and products at the best possible price.
RV Awnings Mart Accessories
Enjoy privacy and comfort with RV Awnings Mart Accessories. Order an Awning Sun Shade or Misting System and keep cool during those summer nights.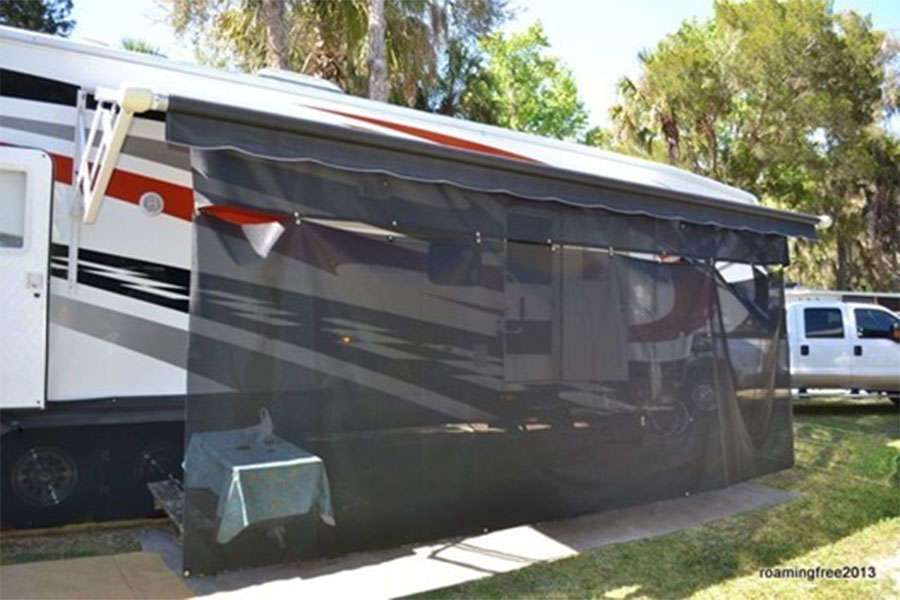 Located in the RV capital of the world, Elkhart, Indiana, RVawningsMart.com offers quality RV awning fabric, durable hardware replacement parts, RV Awning misting systems, and RV awning LED lights at savings of 40% compare to our online competitors.
Replace your old, worn-out Fleetwood awning and customize the look of your Fleetwood trailer with Sun-Wave™ brand patio awning fabric. Sun-Wave™ awning replacement fabric is made of DURABLE 15 oz. VINYL with heavy duty 1000 denier 16 oz. weatherguard. We are committed to offering the LOWEST possible prices on our products with a 5-YEAR limited warranty on the awnings and LIFE-TIME warranty on hardware.