30 years experience

Flexible delivery

Easy installation

After sales support

5 Year Warranty
Lippert is a top-of-the-line manufacturer of engineered products and solutions. With a wide range of products, their awnings stand apart as some of the best on the market. Dedicated to serving and shaping the RV industry, Lippert has worked to create and deliver only the highest quality of service and care to their customers.
Over the years, Lippert has created a vast inventory of aftermarket products for RVs, travel trailers, and campers. However, over time you may find that your Lippert awning fabric needs to be replaced. Once that happens, it's necessary to use only the best quality material available to keep your awning secure and operational for years to come.
Awning Replacement Fabrics

Quality-Made Awning Fabric
RV Awnings provides high-quality vinyl replacement fabric for your Lippert awning. Our awning replacement fabric is capable of withstanding the toughest conditions that nature can throw at you, making RV Awning replacement fabric the perfect option for your Lippert awning!

Affordable Pricing
Aside from being quality-made, our Lippert awning replacement fabric is affordable, when compared to other dealers. Other companies may overcharge for Lippert awning replacement fabrics, but we offer quality products at a fair and affordable price!

Built to Last
Don't settle for awning fabric that will need to be replaced after one or two harsh beatings. Our replacement fabric is built to last, and with proper maintenance and care will work for years to come!
Choose From a Wide Range of Sizes
While Lippert awnings are made in a variety of sizes and functions, RV Awnings replacement fabric can be easily cut and customized to your needs. When ordering your replacement fabric, simply select the size you need. If you can't find that size listed, simply order one size larger and you can easily cut the material down with a knife to ensure a perfect fit for your Lippert awning!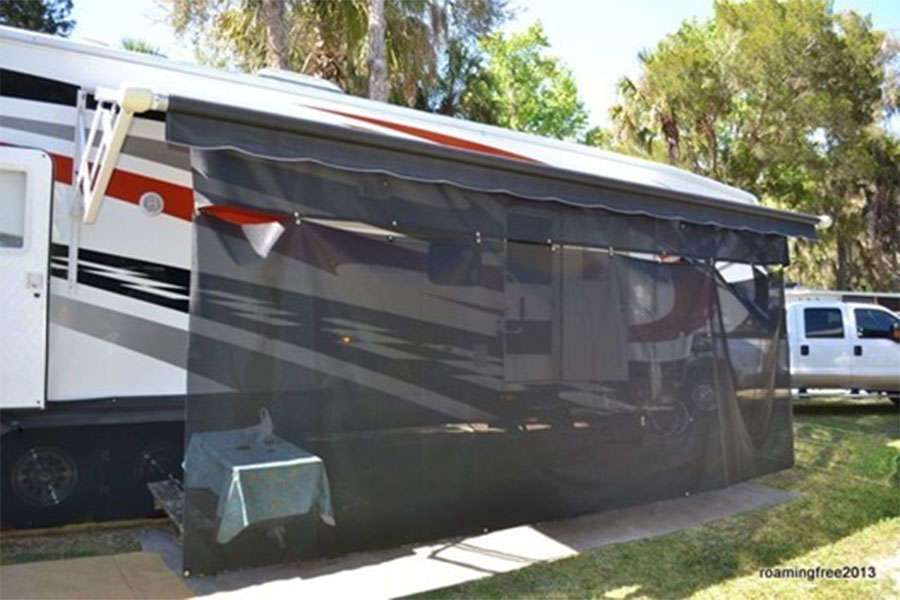 RV Awnings Mart is located in Elkhart, Indiana, and is a great option for your RV awning repoalcement fabric needs. We also offer durable hardware replacement parts, RV Awning misting systems, and RV awning LED lights. No matter what your needs are, RV Awnings has the replacement fabric you need.